Did you get a new Cricut Explore Air or Maker and not sure what supplies you need to get the most out of your machine? This post is for you!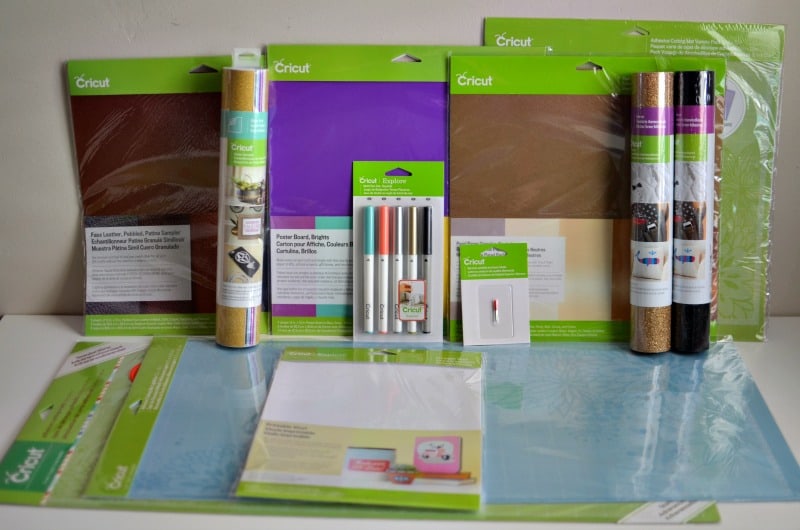 One of the most exciting things about getting a new Cricut is thinking about all the fun things you are going to make and all the supplies and materials you get to buy. But it can be a little overwhelming too. From vinyl to cardstock to iron on and foil not to mention all the different tools, mats and accessories. You could easily spend as much on supplies as you do for your machine!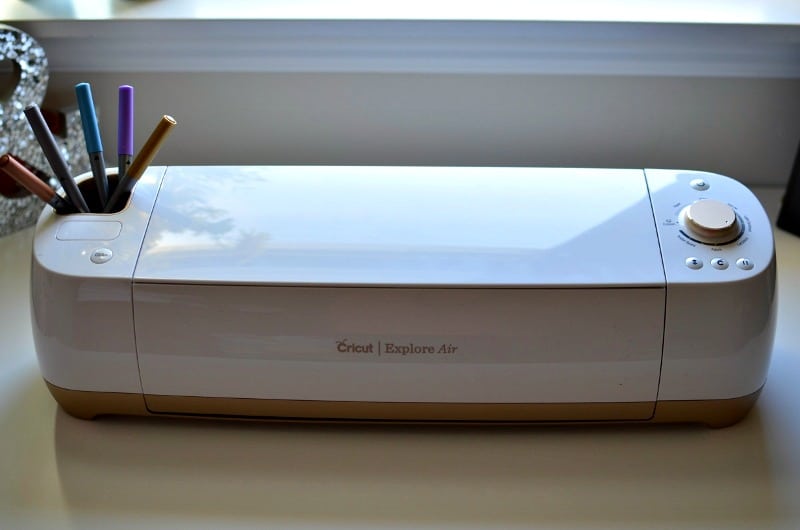 Before you go out and buy all the things let me help you with some of the choices. Below you'll find a list of supplies you can buy for your Cricut. I'll explain what each of them are and what/who they are good for. Let's dive in:
When ordering from Cricut.com make sure to use promo code TFRUGAL to get 10% off and score FREE shipping!
CUTTING MATERIALS (Vinyl, Cardstock, Iron On, Etc.)
VINYL – if you're wanting to make signs, stickers for car windows, coffee mugs and tumblers these are the products you'll want.
Basic Vinyl – great for indoor items that won't be getting wet (wall sayings, canvas', etc.)
Outdoor Vinyl – great for car window decals and anything that could get wet.
Glitter Vinyl – same as basic but with glitter!
Dry Erase Vinyl – perfect for labeling
Chalkboard Vinyl – great for making calendars or also for labeling
Stencil Vinyl – use this if you want to make hand painted signs or screen print shirts
Holographic Vinyl – same as basic vinyl but with different colors depending on the angle you're looking at
Printable Vinyl – great for making stickers
If you're looking to get a variety of items this Material Sampler Bundle is great! It comes with 24 sheets of cardstock, 6 sheets of vinyl, 1 roll of iron and 4 cutting mats!
ADHESIVE FOIL – similar to vinyl but has a nice shimmer to it. Can be more difficult to weed/apply. If you're new to working with vinyl use basic vinyl before you try using foil.
TRANSFER TAPE – what you need to get your vinyl from the backing to your project. Use strong grip transfer tape with glitter vinyl.
IRON ON – This is what you'll use to apply to shirts, pillows, hats, etc.
Iron On Lite
Glitter Iron
Holographic Iron On
Foil Iron On
Printable Iron On
If you're wanting to try out a variety of iron on materials this Iron On Starter Kit is great and comes with a weeder.
CARDSTOCK – great for making cards, gift tags, gift boxes and scrapbooking.
FAUX LEATHER – great for making jewelry, key chains, hair bows and baby moccasins.
FELT – great for making finger puppets, ornaments, dress up masks and headbands.
WINDOW CLING – great for temporary projects for windows, fridge and other appliances.
FABRIC – ONLY FOR CRICUT MAKER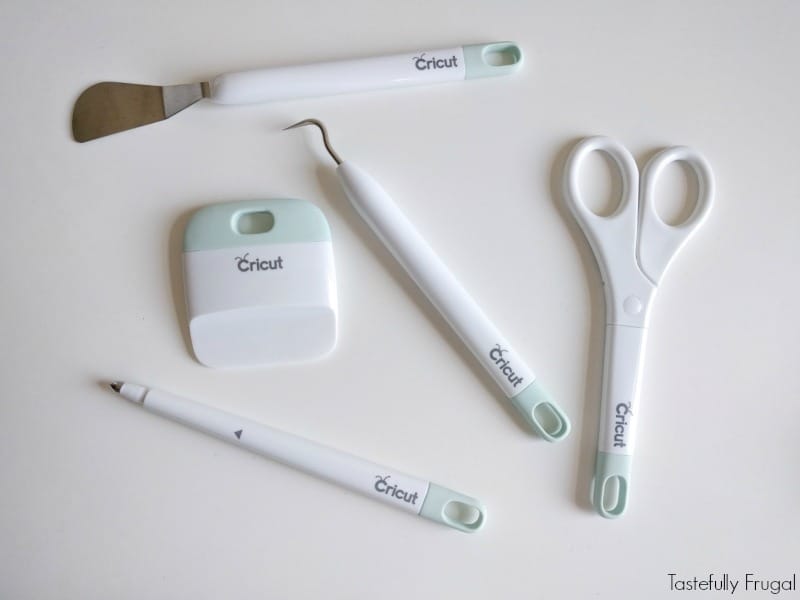 ACCESSORIES (Mats, Tools, Pens, Etc.)
This Complete Starter Kit is great to get you started! It comes with a deep cut blade, scoring stylus, pens, 3 pack of mats and window cling
MATS – comes in 12×12 and 12×24. It's good to have at least one of each size. Decide which mats you need based on what kind of materials you're going to cut most of the time.
LightGrip (Blue) – for paper and cardstock projects
StandardGrip (Green) – for vinyl and iron on
StrongGrip (Purple) – for posterboard, thick cardstock and other thicker materials
FabricGrip (Pink) – for fabric
PENS – great for making cards and gift tags.
TOOLS – While these aren't necessary they make working with materials SO much easier
Spatula – helps get materials off the mat
Scraper – helps apply transfer tape to vinyl
Scissors
Tweezers – help weed intricate details
Weeder – makes removing excess vinyl SO much easier ***If you only get one tool this is the one to get
EXTRAS (BrightPad, EasyPress, Cuttlebug)
EASYPRESS – this is a portable, easy to use heat press. If you're planning on using a lot of iron on this is great to have. You can read more about it here.
BRIGHTPAD – this tool makes weeding SO much easier. If you work in low light areas or plan on using a lot of glitter this is a must have. Honestly I use this almost every time I use vinyl or glitter iron on. You can read more about it here.
CUTTLEBUG – Die cutter machine. Great for adding texture to paper, cardstock, party supplies and more!
STORAGE TOTES – great for keeping your machine and supplies organized and safe. You can read why I love them here.
Rolling Storage Tote – hold your cutting materials, tools. laptop, BrightPad, EasyPress, Cuttlebug and more!
Machine Tote – holds your machine and cords
Shoulder Bag – holds your laptop, can also hold BrightPad, cardstock, vinyl and more
When ordering from Cricut.com make sure to use promo code TFRUGAL to get 10% off and score FREE shipping!
As you can see there are so many fun things you can do with your Cricut! Need more help or want more Cricut inspiration? Join our Cricut Support Group on Facebook!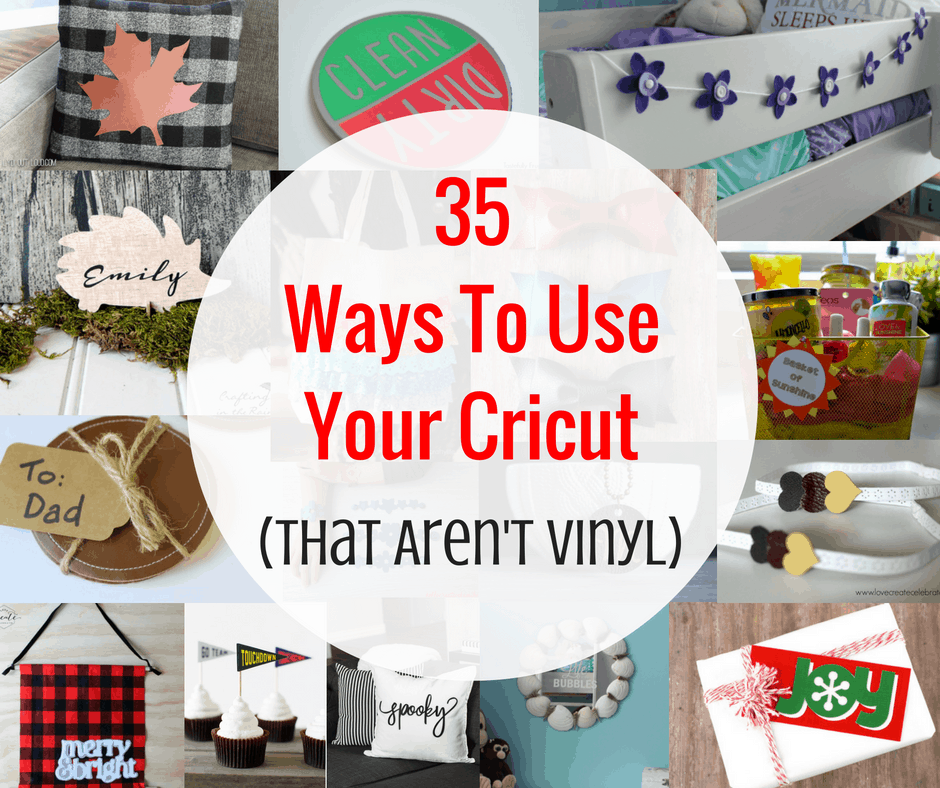 Want some help starting projects? Check out these 35 Projects You Can Make With Your Cricut and wood, leather, magnets and more!