Add a little sparkle and shine to your Valentine's Day outfit with these easy to make faux leather earrings!
Last fall when I was at Joann's I found a killer clearance deal on some faux leather – we're talking like $2 for the whole pack. I've been dying to make some earrings but just haven't had the time. Or I thought I didn't have the time. These earrings really only took 5 minutes to make thanks to my Cricut Maker and EasyPress and that includes design time!
I like the look of the faux leather but since I was making these for Valentine's Day I decided to add a little sparkle and shine to them! I absolutely LOVE how they turned out! And they didn't take that much leather to make. I'm thinking about making a pair for my boys' teachers since I have all the supplies I need to make them.
You can make these in no time too! Just open this file up in Design Space, load your Cricut and you're ready to go! Get the full tutorial below on not only how to make these earrings but also how to design earrings in Design Space too!
SUPPLIES:
Glitter Iron-On (I used pink)
Foil Iron-On (I used pink)
Earring Hooks (I got a 16 pack at Joanns for $2)
StandardGrip (Green) Cutting Mat
BrightPad (not required but makes it SO much easier to weed)
Tool Kit (again not required but makes weeding a lot easier)
EasyPress or Iron
DIRECTIONS:
Open up Design Space and add this heart image (If you'd prefer you can just open this design and skip to the part where we cut the design).
Change the size to 2.222″ H.
Duplicate the heart and make the large heart invisible.
Add a small circle (for the earring) to the top of both hearts and and slice.
Duplicate hearts so you have two of each. ***If you want to add the glitter or foil look you'll want to duplicate the set of the full hearts again so there are 4 total. Also, change the color of the second set of hearts so they are separated on the mats when you go to cut.
Click MAKE IT.
You'll want to choose FAUX LEATHER as your material and under pressure choose MORE.
Load your mat with your faux leather/suede and send to cut!
Once everything is cut, you'll weed your iron on. I've found that using the BrightPad with glitter and foil iron on makes it SO much easier!
Preheat your EasyPress to 245° for the foil iron on or 250° for the glitter iron on and set the timer for 30 seconds.
Once the EasyPress has reached temperature you'll want to preheat your earrings before you attach the iron on vinyl for 5 or so second.
Line up the iron on with the faux leather. I found the easiest way to do this is to lay your iron on vinyl face down and line up the faux leather on the back, vs lining the iron on vinyl on the faux leather.
Once you have the iron on vinyl lined up flip it over so the plastic backing is face up and use medium pressure with the EasyPress to apply the iron on.
If you use the glitter iron on vinyl you can peel right away. If you use the foil iron on wait 10-20 seconds before peeling.
Use the pliers to open the small ring on your earring hook so you can add your hearts. Close the small ring back up once the heart is in.
And there you have it… Super cute earrings you can make at home in 10 minutes or less!
When ordering from Cricut.com make sure to use promo code TFRUGAL to get 10% off and score FREE shipping!
If you'd like to check out more ways you can use your Cricut check out these posts! Need help with your Cricut? Join our Cricut Support Facebook Group!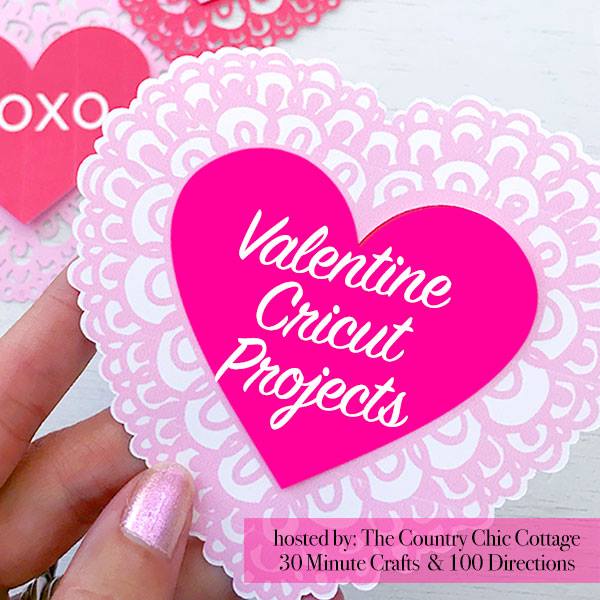 I'm excited to join SO many talented bloggers this week and share with you a TON of awesome Valentine's Day crafts and projects you can make with your Cricut! Check out the rest of the projects below.