Happy May the Fourth! As you know we are big Star Wars nerds here so we are out doing a lot of crazy fun May the Fourth activities today! I'm so excited to have my good friend Kendra from The Things I Love Most guest posting for me today. I met Kendra back in February and she has quickly become one of my best blog buddies. She is one of the kindest people I know and is also a great mom who has a ton of fun ideas for things to do with the family. Today she'll be sharing 40 fun and FREE activities to do this summer.
Summer is finally here! I love summer time, and all the summer fun activities we like to do as a family! Having a good 2 1/2 months with my kids without as much structure as there is during the school year is the best! Although I do love a little structure and like to have a plan for our days so the kids don't tell me they are bored.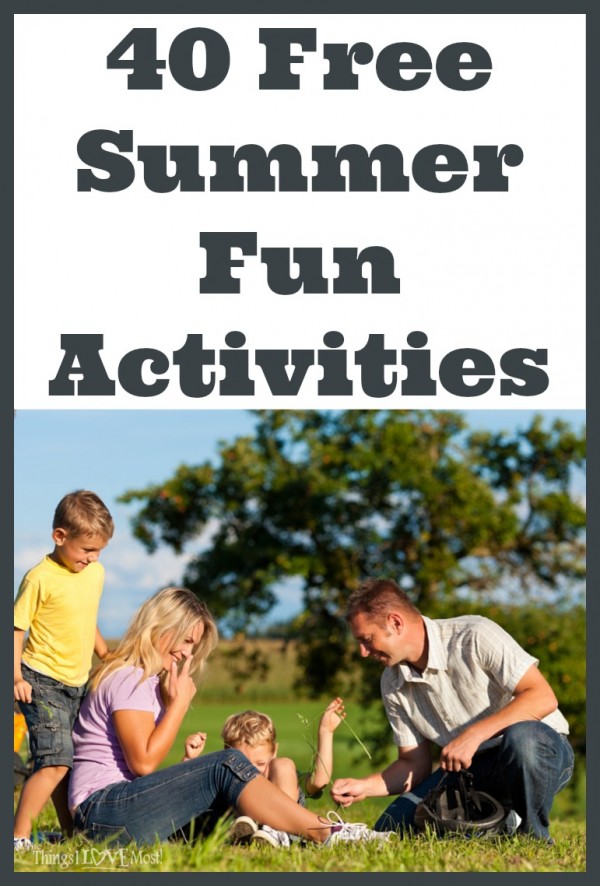 When I think of summer I think of hiking, swimming, lots of popsicles, going to movies, going on a summer vacation, family reunions and playing with friends. It's important to have fun during the summer. Last year I came up with a whole bunch of summer fun ideas for the kids to pick to do each day of the week! It helped motivate them to get their chores done so we could do something fun! One of our favorite things to do last year was play at the river. We went 1-2 times a week and the kids loved finding rocks, catching tadpoles and swimming with friends.
40 Free Summer Fun Activities
Play Games – Street games, night games, board games, kids just love playing games.
Craft Day – Get all your crafting supplies out and let the kids go at it making what ever they want.
Movie Night – We love having family movies nights, but if you know someone with a projector this is a fun way to do an outdoor movie night. Check out this fun post on my blog about the perfect summer outdoor movie party here.
Family Party Night -Pick a theme and go with it!
Go Camping – Even if it is just in your backyard. Set up a tent, roast marshmallows and enjoy being outside!
Go on a Picnics – Take a pizza, or pack a lunch. Go to your families favorite picnic area!
Museum and Zoo Free Days – Most museums and zoos have a free day a couple times a year. Find out when they are and go!
Family Reading Time – We love reading books together all summer. Here are some of my all time favorite book I have read aloud with my kids.
Do a Puzzle – Get a big puzzle, and some yummy snacks and spend a hot afternoon inside putting it together.
Family Sports Day – Kids love it when you play sports with them. Let them each pick a sport and spend time playing each one!
Go to a Park – Splash parks are the best this time of year, but kids love any park, so just head out early in the day before it gets too hot.
Start a Collection – My boys have tons of collections, from rocks, to seashells. Help them start a collection and make something to keep it in.
Plant a Family Garden – Even if it is just in a pot. Kids find so much joy seeing a seed grow into a plant.
Look at Family Photos Albums – Pull out some old family albums, whether they are your own or your ancestors. Kids love to look at family pictures!
Build a Fort – There is nothing better than building a big fort in the living room, getting toys and playing in it all day long!
Set up a Lemonade Stand – Lemonade or Kool-Aid doesn't cost very much. Get a table, a pitcher of lemonade and cups and let the kids sell it to people as they drive or walk by.
Draw or Paint Pictures – Give each kid a sketch book and head outside and let them draw or paint a picture of something they love outside.
Float Boats Down a Stream – Make or buy paper or plastic boats. Find a stream near you and let the kids float their boats down the stream.
Write Letters to Family – If you have family that lives far away, write letters to them. Everyone loves to get good old fashion mail!
Go Hiking – Find a hike fitting for your family in your area.
Go on a Family Bike Ride – We love loading up all our bikes in our truck and finding a great bike path for us to venture out on.
Have a Family Dance Party – Turn on some music and just dance! You will be laughing in seconds, and the kids will think you are super cool!
Go to a Library Story Time – You might not find time to go to story time during the school year, summer is a great time to take your little ones.
Learn to use a Compass – Kids love to learn to use compasses or GPS systems. Go geocaching or hide a treasure somewhere with directions to find it using a compass.
Go Swimming in a lake, pond or river – It's a blast, the kids will love it! Make sure to have fun and be safe!
Learn Some Sign Language – Teach the kids their alphabet or other words in sign langage!
Go Bird Watching – Look up birds in your area. Print a picture of them and get outside and go find them!
Make Food Together – Kids love being in the kitchen with you. Find a kid friendly recipe and make it with them.
Take a Treat to Your Neighbors – What neighbor doesn't love yummy treats. Think of someone in need or who needs a little sunshine in their life and go visit them with a treat in hand!
Write a Story Together – Get a paper and a pencil out and go around in a circle writing a family story.
Go Fishing – Kids fish free and love to go.
Go On a Picture Scavenger Hunt – Come up with a fun list of things to take pictures of, get an older camera if you have one and let the kids find and take the pictures.
Play Frisbee – Kids love to throw a frisbee once they learn how. Get a good frisbee, find an open field and teach them how to catch and throw a frisbee.
Do Yard Work – Your kids might not think this is fun at first, but once you are all outside working together your kids will love being outside with you making your yard look nicer.
Play Outdoor Yard Games – We love badminton and croquet!
Wash the Car – Get rags, sponges and a big bucket of soapy water and let the kids help you wash the car, hose them and the car off when finished!
Have an Etiquette Night – Set up a fancy meal for your family, teach them manners and good etiquette.
Blow Bubbles – Give everyone their own bubbles and have a fun time outside blowing bubbles.
Have a Water Party – Set up a kid pool, water guns and a slip'n slide and have a water party in the backyard.
Have a Family Talent Show – Let the kids share whatever talents they want to, whether it's playing the piano, or singing a silly song!
Let the kids pick an activity every day or couple times a week!
Click 40 Summer Fun Activities to print, then laminate and put on your fridge!
Looking for more summer fun ideas? Check out my Daily Summer Schedule and 120 Summer Fun ideas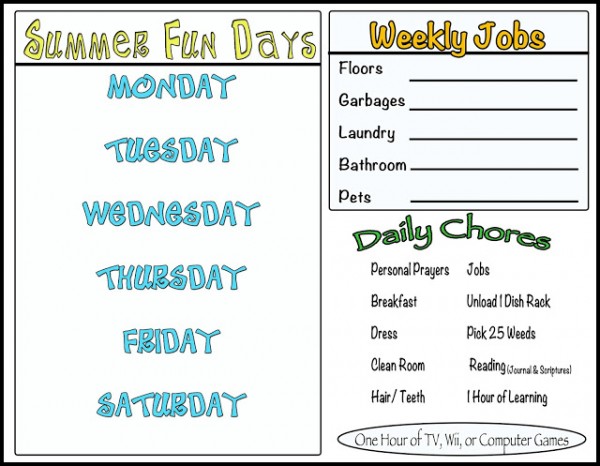 And make sure your kids don't say the word "Board" this summer by printing off my Summer Boredom Printable!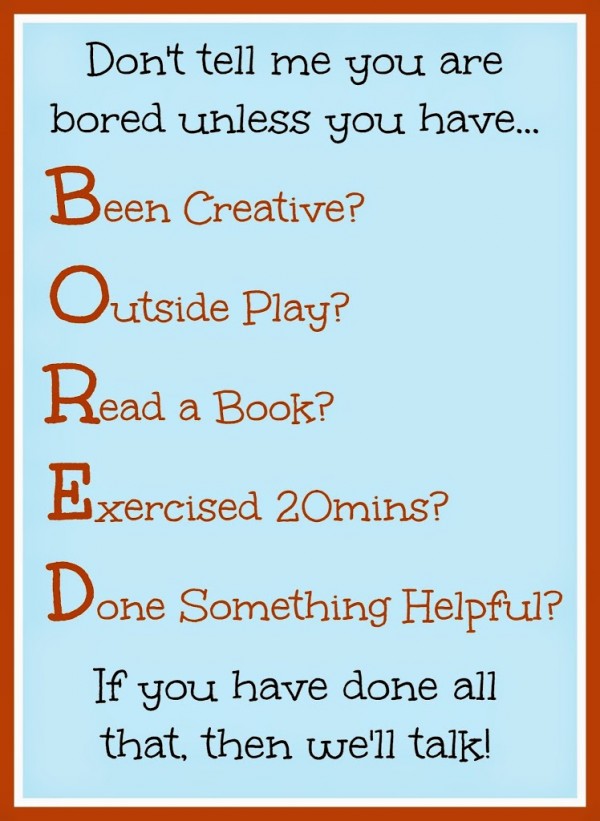 Kendra is a stay at home mom with 5 kids, she home schools her kids, and loves to have fun as a family. She has a passion for fitness and finances and loves to be in the kitchen. She also loves reviewing products and sharing it on her blog. She loves learning every day as she takes on this wonderful adventure of being a wife and mom. She hopes to share some of her knowledge, love and excitement of these aspect of home life with others! To check out her posts that include family fun, food, products she loves, printables, fitness and more visit her at The Things I Love Most or follow here on Facebook or Instagram.