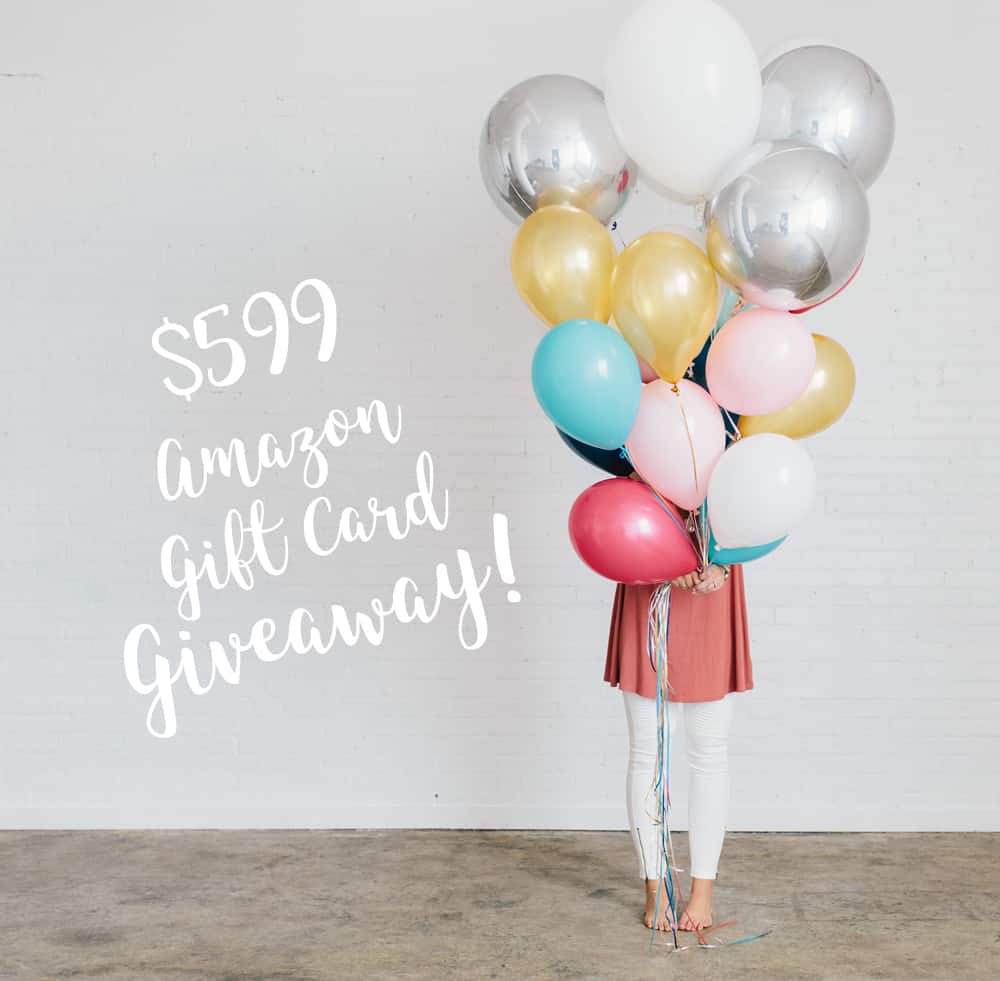 Happy Monday! Can you believe Thanksgiving is next week?! And then it's time to really start on those holiday gift lists. It seems like each year the gifts my kids ask for get more and more expensive; are your kids the same way?! Today some of my blog buddies and I want to help with that!
WE'RE GIVING AWAY A $599 AMAZON GIFT CARD!
Who doesn't love Amazon? It's basically the same as $599 cash! Plus, that's how we like to do our black Friday shopping, from the comfort of our own couches! Amazon's prices can't be beat and they have EVERYTHING! We're hoping this will take care of all that extra Christmas spending for one of you lucky ducks!
Make sure to not forget yourself when buying gifts. Here are a few of my favorite things on Amazon:
Lia Griffith Crepe Paper – this stuff is so versatile and so fun to work with! See how I made a punch board advent calendar with it here.
Bath Bomb Mold Set – I love making homemade gifts and bath bombs are such a fun gift to give to girlfriends. I'll be sharing my favorite recipe tomorrow.
Toms Slip-On Flats – My Toms are my FAVORITE shoes. They are super comfortable and go with every outfit!
Cricut Cuttlebug – You all know I love my Cricut Maker & Explore Air 2 but I recently got the Cuttlebug and it's so fun too! I'll be sharing how I use it to make gift tags on Wednesday.
Reversible Sequin Pillow – I love all things glitter and sparkles and this reversible reindeer pillow fits perfectly into our holiday decor without being too much glitter for my hubby.
I quickly want to give a shout out to the amazing bloggers that joined us on this fun giveaway, because we couldn't have done it without them! [Read more…]